Christmas is right around the corner. For most people, this is a period in their life that they tend to shower their loved ones with gifts and surprises. For some, giving a wrapped gift gives them the satisfaction of a significant Christmas holiday. Other people arrange holiday vacations for their families during this season. Either way, it is an overwhelming season in the business industry since sale rates always increase.
Something about the Christmas holidays is that a lot of people still gamble between varieties of choices. Most people have not yet made up their minds on what to buy or book. For this reason, online marketers have a better chance of swaying many customers to their products or services. However, a strategy is required during this critical moment. An open window of an error can lead to tremendous losses; hence the more reason to plan well. Marketing requires an online platform that engages users and entrepreneurs either directly or indirectly.  Facebook is the most common medium of communication that records a billion users online every minute. With such a big number, one has a chance of getting more customers if they follow the following tips.
Facebook Marketing Tips to be Christmas Sale Ready
1. Have a calendar with the essential holiday days
Knowing when a specific holiday is to happen is very important for any marketer. This pressures someone to prepare in advance. It is crucial that one prepares a document or a spreadsheet that lays down the plan of each holiday. If a particular marketing company has decided to celebrate Christmas holidays, the period in between could be used to prepare and schedule the content.
Prior preparation results to someone posting the holiday offers on their walls. Getting ahead of your competitors from the same industry gives one an upper hand since people tend to trust the initial pages offering the services.
2. Use of visuals in the content
Facebook is one of those apps where people get attracted by images rather than lengthy paragraphs. Being a medium for entertainment, people tend to follow up on the lives of other people and checking out on how life is treating them. For this reason, a marketer ought to know that any advertisement made should have enticing images, GIFs, slides or videos.
However, one should ensure that the sizes of the images are reasonable since large images or long videos tend to use up more data. For a food company, for example, one can decide to have a beautiful image of a beautiful cake and have a captivating caption for the same. Before posting, always ask yourself whether the image will by any chance stop the viewers' thumb from scrolling upwards.
As stated earlier, Facebook is a place where people get curious about other people's lives. Most users are always interested in someone's past, finding out how someone rose to their particular position. Marketers should also apply the same methodology to sell their brand names. If one, for example, has a bakery page, they could inform the users about their motivation to start that company.
Giving a story about your past, the challenges one went through to get to their current situation always generates some empathy from the readers. Though compassion may not be the original intention of the post, those likes and shares count. So, go ahead, let the people know about your milestone. Always give people a mental visit to your business world.
Facebook has features in the comment section whereby instead of having comments in words, people use facial imitations (known as emojis) to react to your content. When advertising on your products or services, always use content that people can relate. Let the story invoke different feelings from people. Make sure that it is so thrilling that one may end up smiling or laughing throughout as they go through your content. When someone relates to a story, they may tag some of their friends to read the same or more so, and also can share URL to their friends.
5. Make use of Facebook live videos
Facebook live has become very popular. Often, people host live watch parties in groups or more so go live on their pages.  Depending on how interesting the show is; online viewers choose to stay or even share the same to different people. However, advancement in Facebook now gives one a chance to inform friends, family, and various groups several hours before one goes live. This leaves a window for a large group of people to prepare for the live video.
However, avoid pep talk during this moment. Make it a chance to a have a Q&A forum, random giveaways to anyone who answers something correctly. Also one can inform the viewers that there would be random flash sales. This keeps the viewers online, and they will in many cases invite their friends for the same offers. Going live gives people a virtual feeling of being present. When such desires persist, some people may opt to have a physical visit or rather a purchase of the same.
One can go live for professional businesses as well. This could be a launch of a new branch of the business, a meeting with business partners, etc.  Live videos create more awareness to the people compared to other methods such as images; hence a chance to get more customers to your business.
6. Create Facebook offers
During the Christmas holidays, most inlet and outlet shops offer great offers to their esteemed and loyal customers. This increases the sale rates besides garnering more customers for the following year. In Facebook offers, a marketer has an option of choosing the type of offers they desire. The offers could be made available either in the stores or through online purchases. The offers depend on one's budget and more so what suits the business best. Some of the typical offers are the "buy one get one free" type. However, this is a personal choice that doesn't require one getting influenced by other marketers.
7. Optimize on mobile-friendly posts
When posting content with the necessary images, always have in mind that most of the Facebook users use their mobile phones. This requires one to choose the right photos that give a good view even in mobile devices. People rarely have time to minimize your page for them to see the image. They will scroll down for more appealing photos from other people.
Besides advertising your business, Facebook is an excellent platform that could give people the location to your shop. With a mobile phone, one can access the location very quickly. Another critical feature is on the loading speed of the visuals on your page. Always ensure that images or videos are easy to download. This is because people tend to lose patience when an image or a video takes longer than usual to load and will in most instances leave the page.
8. Reach out to your target audience
In most instances, just because someone visited your page once doesn't mean that they will purchase your products or services. One ought to keep reminding them time again; hence redirecting them to your page once in a while. Initially, this was very difficult since it all depended on one's luck of ever seeing the page again.
However, Facebook pixels have eased this process.  All that is required is for the marketer to install the pixel and make the adjustments according to their preferences. The best option given, for example, is redirecting the page to customers who viewed the page for a more extended period. This brings everything to one point; do everything possible to have content that makes Facebook users stay on your page a little bit longer. Common sense has it that when one sees specific advert more often, their interest increases hence raising the chances of them purchasing from your business.
9. Be a part of a charitable drive
Most companies spend a lot of money advertising their business on Facebook. However, an extra step could make the whole difference between your business and that of other people in the same industry. Giving back to the community is the best strategy to win people's hearts. This is because people always praise businesses that are affiliated with a charity. During such community services, these are great avenues to inform people more about your business, what you sell, etc. In the way of appreciation; you may gain more customers from the event.
This is a Christmas holiday that is mostly associated with charity. Most Christians adopt Christ's love for the needy hence expressing the same in the communities. In instances when your business doesn't have enough funds to host such an event, one can decide to create awareness by merely sharing the event of the organization on your page.
Conclusion
The Christmas holidays are just around the corner, and many people are still in confusion about what to gift their loved ones. However, your business can decide to help them make that decision. By applying the above techniques, Facebook can be a significant milestone to promote your business by getting many orders. This Christmas holiday may turn out to be the most exciting one, especially after a rough year of economic crisis in your business!
1. Add Christmas Flair to Your Branding
Something that almost any business can do is to update all branding with a bit of festive flair. Adjust your logo and social media profile pictures to incorporate elements associated with Christmas and use it throughout the season, both online and in any printed media; but make sure it doesn't negatively influence brand recognition. Any costs associated with this can be justified by the fact that you can reuse these images for several years. You can also add Christmas flair to your social media header images, either as a single Christmas-themed image for the duration of the festive season or regularly changed to reflect any promotional offers you have running.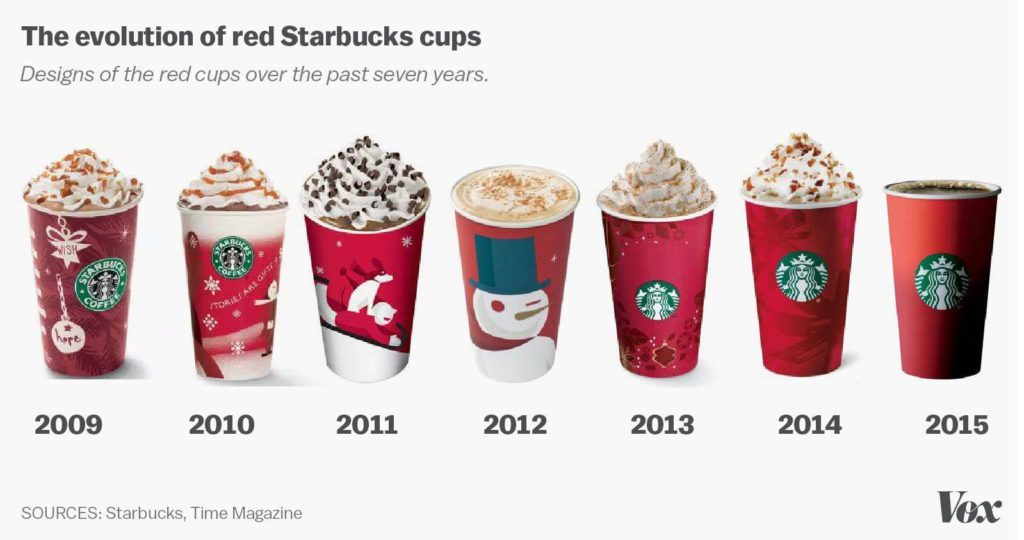 Images Source: Vox
This idea can be used on your website, social media accounts, online stores, in-store, in email marketing campaigns, in online and print ads, in your mobile app, and in any holiday/Christmas cards you send out.
The general rule for content marketing – be it blog posts or social media posts – is that 80% of your content should add value to your customers lives, and only 20% should be about promoting your business, services or products. Don't feel guilty about bending this rule slightly over the holiday season, as long as you don't end up only posting self-promotional updates. Your regular posts can still add value to the lives of your customers, while having more seasonal appeal: restaurants can share their chef's favourite holiday-related recipe, beauty salons can post tips on how to extend the benefits of any treatments they offer when their clients are too busy to schedule an appointment, and gyms can share advice on how to stay fit and healthy while on holiday. As we approach the end of the year it is also the perfect time for sharing retrospectives, from styles that defined the year (fashion retailers), to top new tools (hardware stores), you'll find there's no shortage of light topics to write about over Christmas.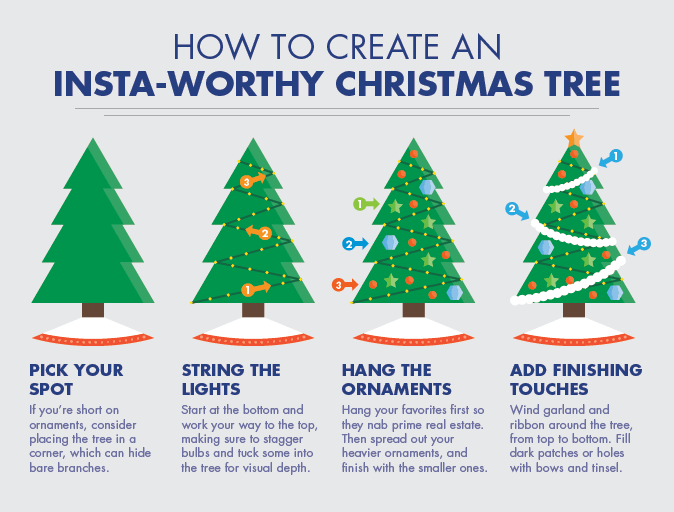 Image Source – Bed, Bath & Beyond
Over the holiday season, the blog for Bed, Bath & Beyond is filled with content to help you have a merry Christmas, without it ever being overly promotional – such as the above article giving tips on decorating your Christmas tree.
This idea can be used on your website, social media accounts, in email marketing campaigns, and in your mobile app.
3. Reward Your Social Media Fans
Depending on your audience, you may find that your followers on social media are your most engaged customers and your best brand ambassadors. Why not thank them by having offers exclusive to social media platforms? Although digital coupons and coupon codes work best with online stores, brick-and-mortar businesses can still offer print-at-home coupons that are promoted exclusively on social media. An alternative for online businesses is to create a landing page with unique offers, and again only promote this on social media.
While not limited to social media only, Furbish Studio's Christmas offer did receive more attention on social media than on their website.
This idea works best if limited to your social media accounts, and when linked to your online store.
4. Publish Helpful, Holiday Themed Videos
Christmas time is the ideal time to post short, relevant videos that help your customers – without being overly promotional. Identify items in your inventory that, due to their size or shape, could be difficult to wrap, and then film demonstrations on how to gift wrap them with ease. Keep the videos short – if you intend sharing on Twitter they should be no more than 140 seconds long, while Instagram's limit is 60 seconds – so instead of trying to demonstrate multiple items in one video, shoot separate videos for each demonstration. Similarly, if you sell a lot of flat-pack items, you could publish videos that demonstrate how to easily assemble them.
Hobby Lobby has previously shared videos on how to wrap gifts, but your audience might not have seen these, and you should still be able to find a way of making your own video quite unique.
This idea can be used on your website, social media accounts, referenced in email marketing campaigns, and in your mobile app.
5. Launch a Christmas Specific Email Marketing Campaign
The holiday season is a good time to boost your email marketing strategy, with a focused campaign to highlight specific products and offers and to share important information relevant to the season, such as extended trading hours, etc. A "12 Days of Christmas" campaign might seem cliched, but aside from being thematically fitting, it lends itself very well to time-limited offers, and the ability to create a sense of urgency. Alternatively, style it like an advent calendar.
For smaller businesses, the emphasis should be on showcasing unique items that aren't necessarily available from High Street stores and big box retailers, but it is perfectly fine to alternate between highlighting specific products and offering a general discount, either store-wide or department specific. But ensure that you have sufficient inventory of any stock being promoted.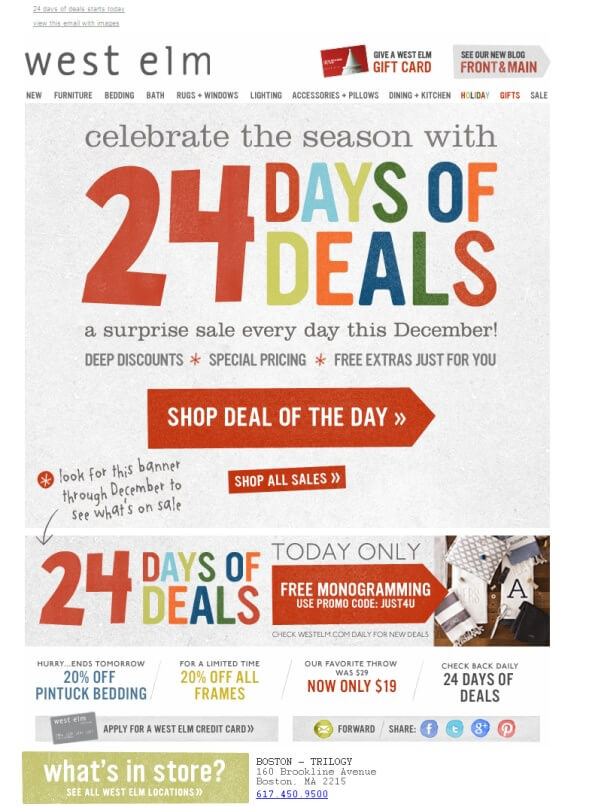 West Elm ran a 24 Days of Deals campaign a few years back, with daily deals, and free extras for email subscribers.
This idea is suitable for any business with a well-maintained email database, and can easily be adapted to a print or social media campaign for businesses without an email list, including a print catalogue.
6. Department Specific Email Marketing Campaigns
If you're worried about finding 12 different marketing offers, or about annoying your customers with daily email messages, scaling back to department-specific offers distributed weekly or biweekly can still be quite effective. Don't choose departments randomly, but instead target those that will generate the most interest and traffic, and where you have sufficient inventory. If your inventory system makes it easy to identify top-selling items in each department, you can turn this into a "This Year's Best Sellers" campaign, again assuming you have sufficient stock of each item.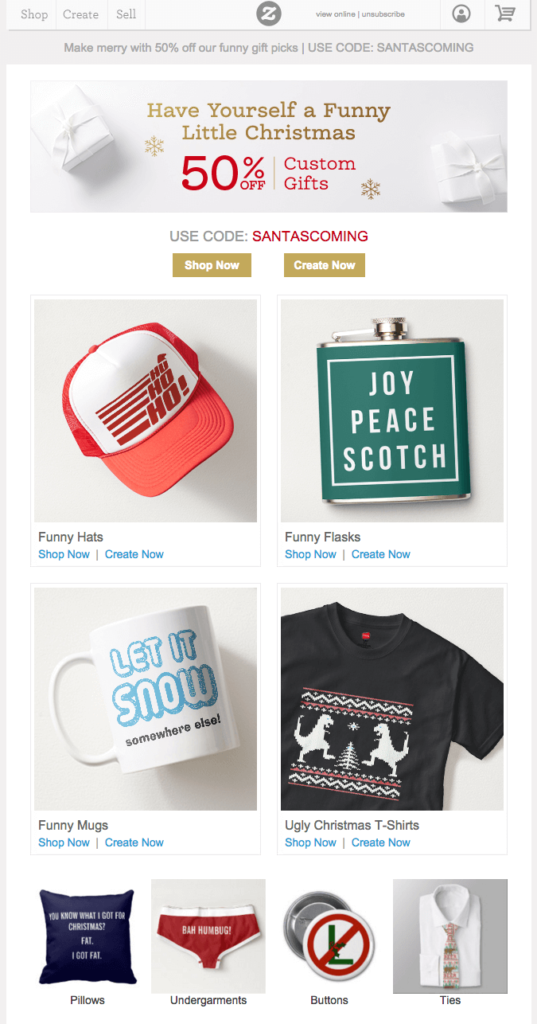 Although this email from Zazzle showcased their various product categories, it included a special discount code offering 50% off customised gifts.
This idea is suitable for any business with a well-maintained email database, but can easily be adapted to a print or social media campaign for businesses without an email list, including a print catalogue.
7. Get Creative With Your Email Subject Lines
The subject line of your marketing email messages should always stand out and encourage your subscribers to open the message. But over the holiday season you need to put in an even greater effort; your competitors, like you, will be increasing their marketing efforts, putting more demand on customers attention and time. You should definitely be more creative with your subject lines but refrain from being too vague about what is in the message – where possible be very specific about any offers. Some examples for you to consider:
Yule adore our wrapping tips!
We're feeling very merry. Get 50 percent off your order.
Ho! Ho! Ho! Our Christmas Shop is Open.
Up to 50% bonus — 'tis better to give AND receive!
Merry? — We got you a ?!
Our Holiday Gift Guide is here.
The BEST gift: 20% OFF anything (TODAY ONLY!)
Ring In The New Year – Plus: 12 Days of Christmas Gifting Starts Now
8. Turn on Email Automation
Most email marketing service providers offer email automation which, when integrated with e-commerce, can result in a sales and revenue boost. If you have an online store you should be making use of email automation to
re-engage customers who haven't made a purchase in some time,
encourage customers who have abandoned their cart to complete the purchase,
highlight products related to what customers have bought in the past, and
reward first-time customers and your best customers.
It isn't too late to implement this ahead of Christmas, and if you are already enjoying the benefits of email automation, adapt the email messages that are sent out over the Christmas season.
This idea is suitable for any business with a well-maintained email database and an online store.
9. Go Greener With a Digital Catalogue
Boost your green credentials, while saving money, by replacing your print catalogue with a digital catalogue. Although a digital catalogue still requires professionals for the photography, layout and design – and the final file creation – you no longer need to budget extra for printing and distribution costs. Your digital catalogue can be distributed to your entire email database and made available on your website with links shared on social media. An added advantage of this distribution model is that you are now able to track how many people open your catalogue, and if you create trackable URLs for each link inside your catalogue, you will also be able to monitor how many sales your catalogue generated.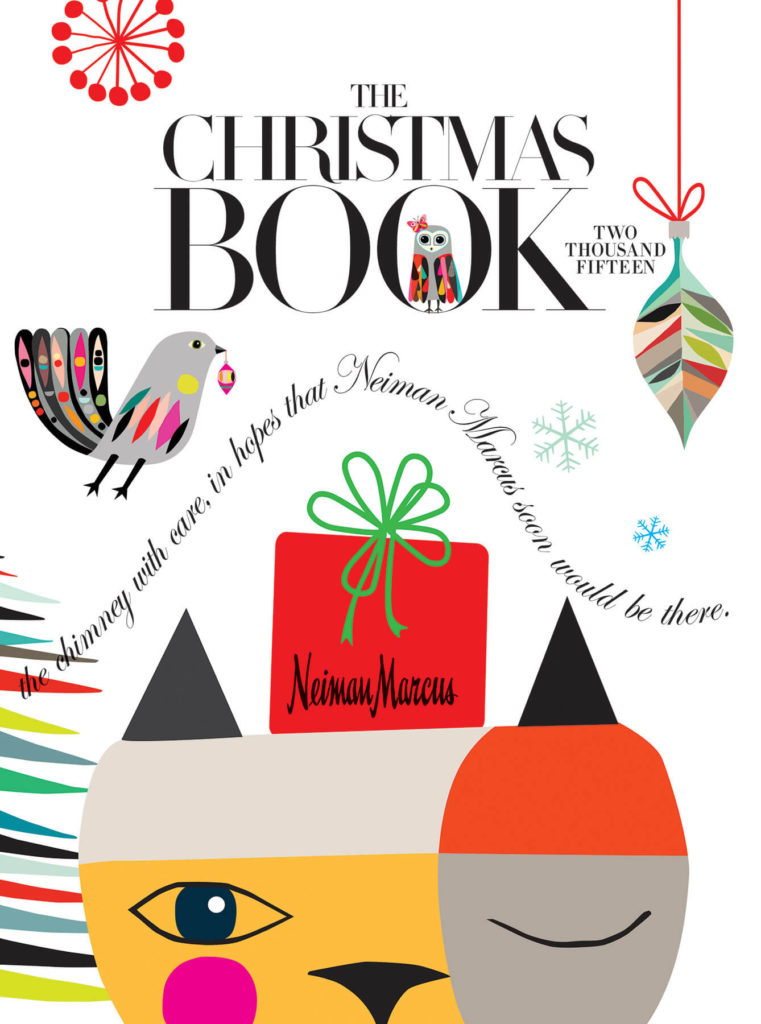 Not small businesses by any measure, Neiman Marcus and Saks are, nonetheless, good examples to look at when considering a digital catalogue. Both retailers put out exquisite catalogues each holiday season, with Saks making it easy to shop online for items shown in their catalogue.
This idea is suitable for any business with a well-maintained email database and website. Having an e-commerce site allows for more detailed tracking, but a digital catalogue is still suitable for businesses with no online store, and could even be incorporated into your mobile app.
10. Switch to Holiday and Product Specific Advertising
Naturally, your ads at this time of the year – both online and print – should include a bit of Christmas flair as discussed earlier. However, it is smart to also limit any campaigns which focus on brand and service awareness, in favour of campaigns which
highlight your seasonal offers and products,
promote your business as a good destination for Christmas shopping, and
are designed to drive sales rather than awareness alone.
For online ads you should ensure that they link to specially designed landing pages that make it easier for customers to quickly buy any product being advertised; and don't forget that this is an ideal time to promote gift idea's, either as standalone products or in themed collections.
This idea is suitable for any business with a website, even those without an online store, and can be adapted for AdWords and social media advertising.
11. Make Sure Your Adverts are Seen by the Right Audience
Your Christmas advertising should not replace your regular advertising, but the bulk of your advertising budget should be allocated to Christmas specific ads over this period. The easiest way to do this is by creating a completely separate campaign just for Christmas, making it easier for you to allocate specific budgets to a predefined period, with your regular advertising operating in tandem, and continuing as normal as soon as the Christmas period is over. This makes it easier to target specific keywords and even to adjust your audience so that the ads are seen by people it is most relevant to.
This idea is suitable for any business with a website, even those without an online store, and can be adapted for AdWords and social media advertising.
12. Create a Sense of Urgency in Your Online Ads
Google AdWords include the option for a countdown in your ad, and Christmas is the ideal time to incorporate this in many of your ads. Use the countdown for any ads promoting a special time-limited offer, discount or sale, and especially if you are offering free shipping for a limited period. For online stores, there is always a "last day" for Christmas shopping, after which you cannot guarantee that any orders will be delivered before Christmas Eve. In addition to mentioning this throughout your online store, you should consider running countdown ads that highlight this date, and show how many days are left in which to place orders.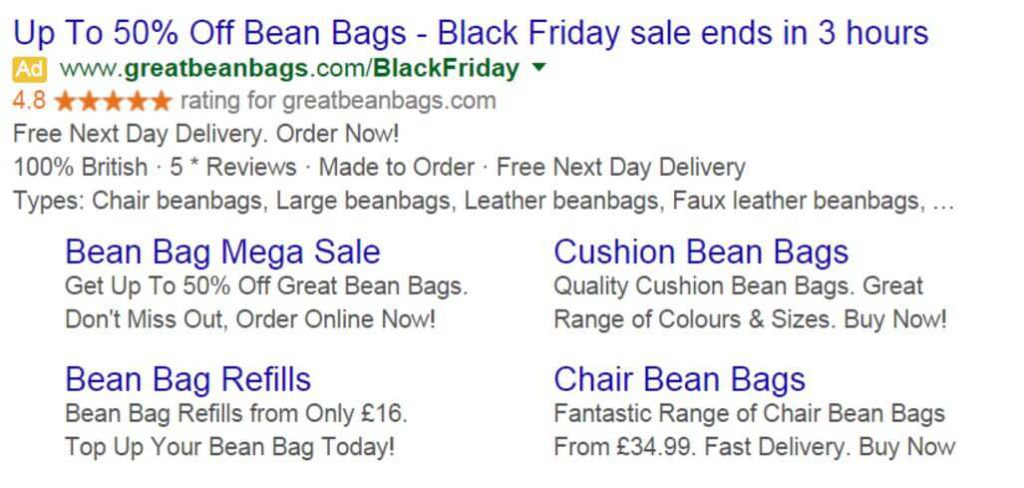 Image Source – Impression
Again, this idea is suitable for any business with a website, even those without an online store, but is more specific to the use of AdWords.
13. Don't Neglect Remarketing
Even if you're not too familiar with remarketing, you've certainly seen it in action: search Amazon for any item you're interested in, and until you search for something else, every time you visit Amazon you will see that product – and related items – being recommended to you. You might even receive a series of email messages from Amazon highlighting deals on that product, even if you never placed it in your cart. But remarketing is not limited to Amazon, and certainly not only available to large retailers. Any online store can use AdWords for remarketing, and it can be quite useful over this period, with the ability to extend its reach further if you link it to email addresses you have collected.

This idea is only suited for online use and businesses with a website and/or social media presence. We haven't (thankfully) progressed to being able to remarket in offline situations.
14. Reward Users of Your Mobile App
If your business has a mobile app then you're already aware of the many benefits it offers you and your customers. Why not reward those customers by distributing exclusive offers and coupons via the app? Distribution and management of these coupons and offers is considerably easier for you, and it serves as an incentive for your customers to keep using your app. Not forgetting that they don't need to remember to print out anything to present when paying.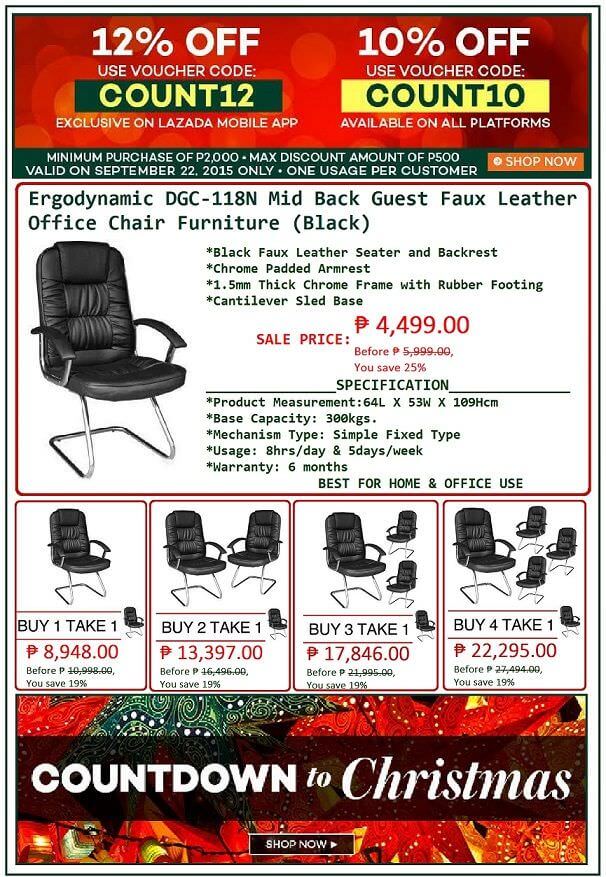 Lazada, operating in various territories throughout Asia frequently offers users of their mobile app additional discounts not available on other platforms.
This idea is obviously only suited to businesses with their own mobile app, and in particular to businesses that are unsuited to running large, diverse marketing campaigns over Christmas: restaurants, bars, hair, nail & beauty salons, etc.
15. Use Push Notifications to Deliver Offers and Reminders
Improper use of push notifications in an app can easily annoy users, leading them to turn notifications off or even delete your app entirely. Assuming you aren't guilty of this, the Christmas season is a good time to send push notifications to your users – in moderation. In addition to using this system to send out exclusive offers and coupons, you can use it to notify your customers of any special operating hours, along with any other information relevant to the holiday season. Just remember to exercise restraint, especially if you've never sent push notification to users before; you want to update your customers without irritating them.
This idea is obviously only suited to businesses with their own mobile app.
16. Location-Based Targeting
Another feature of your mobile app that you might not have made use of before is location based targeting, allowing you to alert customers of special offers, etc. only when they are within a specific geographic location. For this to be effective, the location you define should not be too broad: within a 100-200 metre radius of your business, rather than the entire neighbourhood or town. Additionally, since these notifications are only seen by customers when they are in close proximity to your business, the offers should always be current – don't use this feature to highlight upcoming offers and events.

Image Source: MMA Global
This idea is best suited to businesses with their own mobile app, though it can be used too with paid social media advertising.
17. Host a Local Charity Drive
Christmas is a time of giving: we give gifts to family, friends, and even work colleagues. As a business, you're also giving something to your customers in the form of discounts, special offers and other incentives and rewards. But what about your local community, outside of your customers? Large businesses often have an ongoing social initiative which benefits specific charities or causes, and it is difficult for small businesses to match this. Except at Christmas. Identify a cause or local charity whose values and mission align with your own, and with those of your primary audience; then meet with them to identify ways in which you could help them. You could host a food drive, donate a percentage of all sales during a specific period to them (and ask your customers to try match this), or even organise a toy or clothing drive.
When promoting such events focus more on the cause, or the work being done by the charity; although all material can include your branding and some details of your involvement, it is not an opportunity for you to cheer "Look at the good work we're doing". You want to gracefully show that you support local initiatives while encouraging your customers to also become involved, and tactfully including some brand awareness.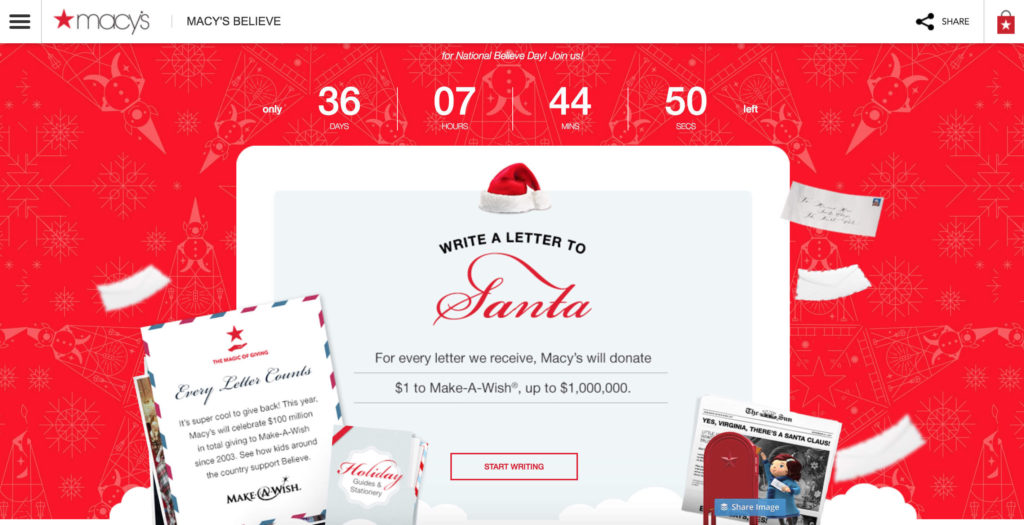 Macy's has worked with the Make-A-Wish foundation for more than 10-years, using both a letter writing campaign and a Twitter hashtag to raise funds each Christmas, while Discount Retail Store Services in Las Vegas run an annual Christmas Gift Bag drive for the needy, asking the local community to participate by making donations in the form of non-perishables, clothing and toys.
This idea can be used by any business – big or small – regardless of whether they are purely an online business or a brick-and-mortar business.
18. Host a Christmas Breakfast or Lunch
Although being boastful of your charitable work is somewhat tasteless, there is nothing wrong with drawing a little bit of attention to some of your work. Hosting a Christmas breakfast or lunch for a local retirement centre or children's home can easily attract the attention of the local media, giving your business free publicity, while at the same time bringing a bit of seasonal joy to those in need. You could even approach other small businesses to provide gifts, turning this into more of a community project that benefits more than just your own business.
Again this idea can be used by any business – big or small – regardless of whether they are purely an online business or a brick-and-mortar business.
19. Join Forces With Another Small Business
Relax, nobody is expecting you to work with a direct competitor, but rather a small business whose product or services complement your own: think stand-alone hair salons and nail salons, furniture retailers and home decor stores, and even fashion boutiques and laundromats/dry-cleaners. The idea is for these complementary businesses to offer bundled deals which effectively promote each other, and encourage customers to support both. By way of example, hair salons and nail salons can offer gift bundles over Christmas which include treatments at both establishments.
This idea is better suited to small businesses who offer complementary products, and are located close to each other. It can be adapted for online retailers too.
20. Get Involved in the Small Business Saturday Initiative
Small Business Saturday is an initiative that first began in the US, but is slowly being adopted in other countries around the world, with 2016 being the fourth year it is observed in the UK. The initiative aims not only to promote small businesses, but also to encourage customers to "shop local", and customers spent £717 with small businesses on Small Business Saturday in 2016. Engage with other small businesses and your local authority to find out what is being planned, and how you can become involved.

Your local campaign organisers will not only provide some marketing material, but also valuable advice on how to attract customers on this day – 26 November in the US, and 3 December in the UK.
This idea is suited to all small businesses, from family businesses, through to online stores, small wholesalers and even small manufacturers, especially those that find it difficult to stand out on Black Friday.
21. Organise a Christmas Themed Contest
As suggested by the charity drive idea, it's great to get your customers involved in some of your events, and if you're not yet ready to host a charity drive, you can still get your customers involved through a contest. More specifically, a contest that requires them to do more than just spend a certain amount with your business: ask your customers to submit photos of themselves wearing an ugly Christmas sweater, or a video of them singing Christmas carols – with a prize for best and worst vocalist, and you may even consider asking them to update the lyrics of a classic carol, incorporating current affairs and the way society has changed since the carol first became popular. All entries should be posted on your social media channels, and although you can link these contests to instore purchases, this idea is more about generating publicity and having fun.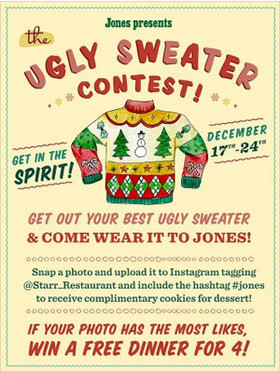 Jones restaurant used a combination of a contest, Instagram, instant rewards and a grand prize to not only drive sales over Christmas but also generate a bit of free publicity.
This idea is suitable for most businesses, from retailers through to service providers, with either an online or physical store, and an active and engaged social media audience.
22. Be More Personal With Printed Holiday Cards
The internet and related technology have made it considerably easier to distribute holiday cards to your customers, from Halloween through to Thanksgiving (for US businesses) and Christmas, but this has also made this gesture a lot less personal. Depending on how much personal information you collect from customers, consider making holiday cards personal again by having them printed and sent out via the postal system. And unless you are sending out hundreds of cards, you can take this a step further by writing the customer's name on the card, possibly with a short personalised note. This does require a little more forward planning and effort, but it is a strong reminder to your customers that you see them as more than just a database entry.
23. Include a Small Gift in Your Holiday Cards
Regardless of whether you send out digital or printed holiday cards, including a small gift – such as an exclusive discount – is an awesome way to remind your customers that you appreciate their support while encouraging them to continue supporting you. And if you are able to personalise this gift by linking it to the products they each buy most often, even better.
Salt Publishing not only sent cards to their clients/reviewers, they also included a gift they knew their clients would find useful.
Since this idea is linked to the previous one, it again depends on your business having an up-to-date customer database, though it can be applied even when you only have an email address for each customer, or engage with your customers via your mobile app.
24. Place Impulse Buys Strategically Around Your Store
Online stores should already be incorporating a recommendation system in their e-commerce platform, highlighting products related to what customers add to their carts, and during Christmas, this can be adjusted slightly to include gift wrap, gift tags, and smaller items as gift suggestions. Physical stores can adapt this by placing gift wrap and appropriate impulse buys close to all pay points. Depending on your type of business you may already have impulse buys at all pay points, but make sure these are more suited to the holiday season, rather than just generic impulse items.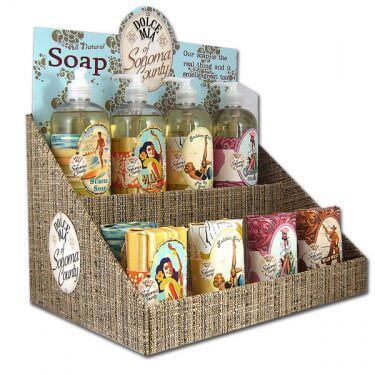 This suggestion can be followed by any store, both physical and online, selling physical products rather than services.
25. Always Have Gift Cards Available
No matter how well your customers plan their holiday shopping, they are likely to have at least one person who is difficult to shop for, or whose gift idea is no longer available. Help these customers – and your business – out by ensuring you have gift cards available for purchase. Gift cards for use in your business. If you have switched from selling physical gift cards to providing digital cards, ensure you have prominent signage indicating this, and that you at least provide some physical representation of the gift card.
Although Uptown E Store's Tweet promoting their gift cards covers a variety occasions, it does include mention of Christmas – which is important at this time of the year.
Gift cards can be offered by businesses selling physical products and/or services, including online-only businesses.
26. Promote Gift Sets & Gift Ideas
It is quite easy for customers to feel a little overwhelmed when doing their Christmas shopping, and you can alleviate this by promoting gift sets and "curated" gift ideas throughout your store, both physical and online. Hair, nail and beauty salons can promote treatment packs, while liquor retailers could put together a selection of craft beers, single malt Scotch, or a range of artisanal liquors. Ensure your gift sets and gift ideas cover a broad range of interests and ages, and if you have put out a Christmas catalogue, it should definitely include sections for gift sets and gift ideas.
Gift sets and gift ideas can be promoted by most business types, and should definitely be incorporated into any online stores with a large enough assortment of categories and products.
27. Don't Forget the Holiday Decor/Atmosphere
Finally, you don't want to neglect creating the right atmosphere for this time of the year. While our first point covered adding Christmas flair to your branding, this point is about incorporating Christmas flair into your business as a whole. We're not suggesting anything that resembles a wedding reception for Liberace and Elizabeth Taylor, but some seasonal decor will seldom look out of place. At the very least consider providing a gift wrapping service, or offering your customers a mug of hot chocolate, or other seasonal drink on entering your business. Naturally what you do depends on both your budget, and what would be appropriate to the bulk of your audience. Just ensure you have a plan to remove it all once the holiday is over.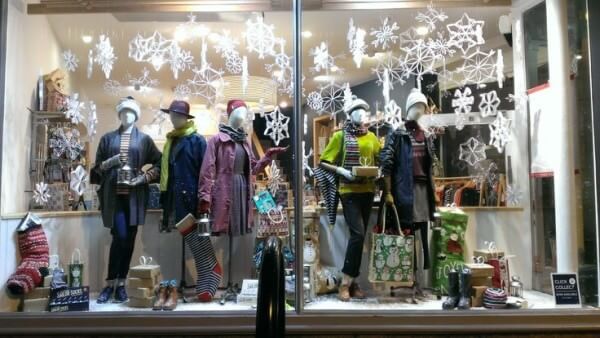 Seasalt have a tradition of tasteful Christmas displays and decor centred around a theme, and still true to the brand. They not only share images of these every year on their blog but even show the decor being made. Last year's post included a video demonstrating how you could make your own snowflakes similar to those on display.
Christmas marketing slogans
All hearts come home at Christmas.
Are you thinking about Christmas shopping yet?
At Christmas you are supposed to get presents. Not extra pounds.
At the close of another year, we gratefully pause to wish you a warm and happy Holiday Season.
By golly, be jolly!
Christmas season is sure to be pleasin'.
Come get ready for Christmas.
Deck your halls.
Don't be a Grinch.
Dream a little dream.
Elfmade toys are the best!
From Our Store To Your Home.
Get into the spirit of the season.
Have a simply beautiful holiday season.
If you don't believe, you won't receive.
Indulge yourself in joy.
Is it too late to be good?
It's the season of giving!
Let's let music fill the air and joy fill our hearts.
Love is an Art.
May the holidays bring your joy.
May the Spirit of the Holidays be with you throughout the New Year.
May your home be filled with all the joys of the season.
Naughty Is The New Nice.
One out of control Christmas sale!
Our bells are jingling!
Peace and joy sold here.
Peace, Love, and Harmony!
Santa Stops Here.
Santa, Santa, please stop here. Fill our Christmas with joy and cheer.
Season's Greetings.
Sugar and spice makes Christmas nice!
The magic of the season.
These days they say that Christmas is just for children. So be children and enjoy.
The time is near. Give a big cheer.
Warm wishes from us to you.
Warmest greetings this season.
We have everything they want!
We're so in the mood for Christmas.
Wishing a happy holiday!
Wishing you love, cheer and a happy New Year!
Wishing you peace and prosperity.
Wishing you peace, health, and happiness in this New Year.
Holiday marketing ideas
Cross-Promote With Other Businesses
You can also use a similar strategy to attract customers from other local businesses. Just exchange coupons or go in on a special offer and give those items to shoppers at each store.
Host a Thank You Dinner
If you have some really loyal customers or clients, you can say a special thank you at the holidays by taking them out to a lunch or dinner.
Partner With a Local Charity
You might also want to do some charity work during the holidays. If you have a local business, you can invite representatives from a local charity to collect money or share their message at your location for a day.
Donate Money to a Cause
Or you could simply choose to donate a portion of your profits throughout the holidays to a particular group or cause.
Invite Santa Claus
People love visiting Santa Claus around Christmas time. So you can invite him to your store or business to attract some families who are out shopping.
Exhibit at Holiday Shows
You can also get your products in front of more eyes by showcasing them at special shows or events throughout the holiday season.
Offer Gift Wrapping
Whether you sell products in a retail store or online, your customers are likely to want some of their purchases gift wrapped. So you can offer that as an extra service or even as a complementary add-on.
Publicize Your Returns Policy
When people purchase gifts, they want to know that they can be returned if by chance it doesn't work out. So you can create a flyer for your store or display your policy prominently on your website so customers know what to expect.
Hand Out Hot Chocolate
For local businesses, handing out hot chocolate or other seasonal beverages can be a great way to spread some cheer and attract passersby.
Create a Fun Lights Display
You can also show off your spirit by creating a festive lights display that people will go out of their way to visit.
Create Holiday Window Dislays to Attract Customers
Or you could use your store windows to create a festive environment that also showcases some of your popular holiday products.
Let Kids Decorate Cookies
You can also get the kids involved in the holiday festivities. Host a cookie decorating party or give them a similar activity they can do while their parents shop.
Have a Party for Another Holiday
Holiday parties are incredibly popular around Christmas. But you could make yours stand out by celebrating a different holiday, like Bake Cookies Day on December 18 or Bacon Day on December 30.
Send Early Cards
If you plan on sending out holiday cards to customers or clients, you can also make those stand out by sending them out early.
Contact Bloggers Who Make Gift Guides
If you have products that could make great gifts, you can get them in front of more potential buyers by getting in touch with bloggers and asking them to feature your items in their holiday gift guides.
Give Away Free Samples
For those businesses that sell food items or anything that customers might want to try out before buying, giving away free samples can be a good strategy to encourage more sales and get more people through the door.
Have a Pampering Station
Holiday shopping can be stressful. So if you want to create a great experience for stressed out shoppers, you could offer some kind of pampering activity, like massages or guided meditation.
Hold a 12 Days of Christmas Sale
To keep people shopping throughout the holiday season, you can host a special sale where people can get specific products or deals for twelve days leading up to Christmas. You can even throw in some fun themed days to really get people into the spirit.
Give Away Stocking Stuffers
For those shoppers who are trying to finish off their holiday shopping, little stocking stuffers can be a real attraction. So you can give them away with each purchase or offer them at a discounted rate for people who spend a specific amount on other items.
Put Up Stockings for Customers
You could also help customers feel more connected to your store or business by displaying stockings or similar items with their names on them. Even little paper stockings can help you decorate your business and reward customers for shopping with you.
Play Christmas Music
You can't create a festive environment without a little holiday music. Create a custom playlist or find a radio station with holiday music that really sets the perfect mood for your customers.
Decorate Your Website
Even if you only do business online, you can still show off your holiday spirit. Add some holiday inspired elements to your website, like snowflakes, a flying Santa, ornaments and more.
Send Out Festive Emails
You can also cater your email marketing efforts specifically to the holiday season. Add festive titles and touches that will appeal to those in the holiday spirit.
Display Holiday Themed Art
For local businesses, you can dress up your store and support local artists by displaying holiday themed art at your location. You can even offer it for sale to help those local artists find buyers.
Offer Gift Cards
Gift cards are very popular around the holidays. So you can offer them to your customers and make sure to display them prominently around the checkout area so even last minute shoppers know they're an option.
Include Gift Card Bonuses
If you do sell gift cards, you can make it an even more intriguing option by offering bonuses. For example, you might include a $5 gift card with the purchase of a $20 gift card.
Create a YouTube Video
Video marketing is a great way to attract new customers throughout the year. And the holidays are no different. You can even create a themed video that shows off your holiday spirit with a song or a spoof of some popular holiday stories.
Host a Twitter Chat
For B2B or online businesses, you can get more customers involved around the holidays by hosting a special Twitter chat on a holiday related topic.
Have a Photo Contest on Facebook
On Facebook, you can encourage your followers to get involved by asking them to share their favorite holiday photos. You can even make it into a contest to give them an incentive to participate.
Create an Instagram Hashtag
If you want to increase engagement on Instagram throughout the holidays, you can create a specific hashtag that people can use to show off how they use your products in holiday gifts, recipes, parties and more.
Update Your Logo
Your logo can offer you a really simple way of showing off your holiday spirit. Just add some holiday themed elements or even just change it to a holiday color scheme just for the season.
Offer Extended Shopping Hours
During the holidays, you're likely to do more business than you normally would the rest of the year, so it might be a good idea to extend your store hours on some popular shopping days just to offer a better experience for some customers.
Include Free Shipping
For online stores, free shipping can also be a very effective way to get more customers to actually purchase from you during the holiday season.
Sponsor a Holiday Event
For local businesses, look for local events like parades, races or other popular destinations and see if they accept local business sponsors. This can be a great way to get your business in front of more potential customers.
Offer a Grab Bag of Gifts
Some holiday shoppers just aren't sure what to buy. But you can help them out and offer a sort of fun experience by offering grab bags or surprise gift items that they can purchase at a discounted rate and unwrap to reveal later.
Put Together Gift Baskets
You can also potentially sell more of your products by bundling or creating gift baskets that include multiple items in one.
Create a Holiday App
For mobile businesses, you can create a holiday specific app that's catered to holiday shoppers or offers a holiday-specific experience.
Offer Gift Delivery
Even for local businesses that don't normally ship products, you can offer to ship or personally deliver gifts for busy customers around the holidays as an extra service or offering.
Change Product Names
Whether you have a product based business or even a restaurant with specific menu items, you can show off some festive spirit by changing the names of your products to something that works with the holiday theme.
Have an Ugly Sweater Contest
Ugly sweaters are a big part of the holiday season for many consumers. So you could have a fun contest in your store or online to reward the customer with the ugliest one.
Create Holiday DIY Projects or Recipes
The holidays are a big time for people to get creative with homemade gifts, recipes and more. So if any of your products might work in those types of projects, you can create a tutorial and post it online.
Launch a Local Search Campaign
Local search is also very important when it comes to attracting local shoppers who are looking for specific types of businesses. So it can be a great time to run a local search advertising campaign.
Suggest Product Combinations
For people who are looking to make multiple purchases but aren't necessarily sure exactly what they want to buy, you can make suggestions based on the items they've browsed or the items in their online cart.
Start a Remarketing Campaign
You can also target past customers or people who have browsed products on your site already by taking advantage of remarketing options.
Create a Holiday Themed Landing Page
For any holiday marketing campaigns, it can also be a good idea to set up a special holiday landing page. This can show off any themed promotions and also help you measure the effectiveness of those campaigns.
Have a Secret Online Sale
To reward your email subscribers or best customers, you can have a secret sale that you don't publish anywhere else. This can make them feel important and give them the opportunity to get a really great deal.
Launch a Holiday Blog Campaign
If you have a blog for your business, you can also create themed blog posts to show off gift ideas, recipes and more.
Make a Downloadable Holiday Resource
You could also make a downloadable resource, like a shopping guide, recipes or even an ebook that customers can access on your website or through email.
Give Client Gifts
And finally, giving gifts to your best clients, customers and colleagues throughout the holiday season can be a great way to show your appreciation and create a great experience for all.
Christmas promotion ideas for retail
1. Come Up with a Seasonal Product (Or More)
When it comes to Christmas promotions, seasonal products are a must. They get your customers in the holiday spirit, and their limited availability makes them more sought-after because of FOMO (fear of missing out).
For example, if you run a retail business, you could just add Christmas themes to existing products. Of course, it completely depends on which market you're present on. Still, let's say you run a clothing store. A good idea would be to customize popular clothing items like shirts and winter caps with holiday design elements (like Christmas trees, snow globes, or reindeer).
If you run a restaurant, adding a seasonal hot drink to the menu would usually do the trick. Though, you can always add Christmas-themed food too (especially desserts).
Naturally, these products should come with a discount. If you want to offer an even stronger incentive, you could even use the "buy one, get one free" promotional format. What's more, you could offer extra loyalty points for seasonal product purchases.
You could even use seasonal products to get people to sign up for your loyalty program. The fastest and most efficient way would be to offer them one free promotional product when they become a loyalty member.
2. Organize a Holiday-Themed Event
One of the best ways to show your customers how much you care about them (and to encourage them to interact with your brand as well) is to host a holiday-themed event.
For example, if you run a retail brand, you could plan an exclusive sales event or a Christmas market (would go hand in hand with what we said at tip #1). On the other hand, if you have a restaurant, you can organize a Christmas dinner. In fact, if you want to make it more interesting, you could even host a Christmas cooking workshop too.
This would be a great opportunity to offer promotional products and discounts – not to mention that your clients will be much more likely to promote your brand and the event on social media.
And if you're worried about people preferring to spend Christmas with their loved ones instead of attending the event, just organize it a few days before Christmas. Still, if you run a restaurant, you could organize the event on Christmas and just offer more discounts (as stronger incentives) if the customers in question bring along their friends and family with them.
Better yet, you can also use such an opportunity to encourage customers who are not loyalty program members to sign up. Make it a no-brainer for them – offer them extra points and let them redeem a reward right then and there if they do it on the spot.
3. Use Holiday-Themed Promotional Calendars
These types of calendars are often an overlooked Christmas promotion idea. Yes, it's true that your customers probably already have a calendar app on their smartphones, laptops, or desktops. However, none of those can compete with the charm of an original, paper calendar.
And we're not just saying that. According to statistics, paper calendars haven't just stayed relevant in today's tech-oriented society – their sales have also increased.
Just make sure you offer the calendars for free. In case you prefer an alternative, try offering them as redeemable rewards for loyalty program members. You can even offer them as an instant reward to entice other people to sign up for your rewards program. Oh, and make sure the design of the calendar adequately matches your brand.

Best of all – you can make the calendars interactive too, and in a good way. How? By adding a discount code to various calendar days which can only be redeemed on said days. This way, you'll give your customers a powerful incentive to keep coming back to your restaurant or retail store throughout the next year.
4. Run a 12-Days of Christmas Promotion
When most people think of Christmas, they usually can't get this well-known song out of their heads. So, why not run a promotion centered around it?
Basically, the main idea would be to have a certain product on sale at a discount on each day. To make things more interesting, you should promote a different product every day. You could even feature some of your seasonal products, in fact.
And besides providing an appealing discount, you should also let your customers know they can earn double loyalty points during this period (either by making purchases or by spending money on the promotional products), so that you get even more client engagement.
You could also offer non-members a chance to join and earn a Christmas-themed reward when they do that as well.
For retail businesses, this is pretty straightforward. Just pick a specific product for each day. In case you don't plan on using seasonal products for this, our recommendation is to choose products that haven't really been top-sellers recently, so that they receive more attention this way.
If you run a restaurant, you could even organize a different Christmas-themed menu selection each day.
5. Use Gift Cards, But Do It the Right Way
Christmas is a time for giving, so gift cards fit in quite well with the overall holiday vibe. They're a great last-minute gift too. Plus, department store and restaurant gift cards seem to be among the most popular options out there, so your customers are sure to purchase them.
Of course, just using a basic gift card with a stereotypical holiday design isn't really enough. You need to make sure they make people think about Christmas and your brand at the same time.
For example, if you run a pizzeria, you can use a small design of an elf making a pizza (one that resembles the kind of pizza your business sells). If you own a clothing store, your gift cards could have a design of an elf or an anthropomorphic reindeer wearing the type of clothes you sell.
Those are just some basic examples. Overall, there are plenty of possibilities to choose from.
And be sure to package the cards nicely – just as if they're an actual gift to your customers. This way, if they want to offer them as a present, they don't need to wrap them up themselves.

Usually, it's a good idea to place the gift cards at the entrance to your store or restaurant, or near the checkout.
As for what the gift card can offer, we only recommend sticking to the "get $5 off on your next purchase" method if you're in the QSR industry. If you're in the retail or restaurant industry, it's best to offer a higher discount (like $15-20 off).
Alternatively, you could offer customers a free item if they purchase a gift card (free topping, dessert, or winter hats – just some basic ideas). If you want to further enhance your brand image, you can also donate a part of the profits that come from gift card sales to a charity (either of your choosing, or of the customer's choosing).
Also, you should think about letting loyalty program members earn points for purchasing gift cards. What's more, you should let them redeem a reward (or just offer them even more points or a discount) if the gift card recipient uses the card, as it works as a great referral incentive.
6. Run a Christmas Contest
The idea of winning something for free always gets people's attention, and a contest taps into their biological need for competition.
Promote the competition on social media as a way for your customers to win brand-specific Christmas gifts. If you own a restaurant, the prize could be a free Christmas diner or a bottle of your finest wine. If you're in retail, the possibilities are quite endless.
If you want to drive in-person engagement, you can also try hosting the contest at your restaurant or retail store. You can organize it during one of your Christmas-themed events, or as a separate event on its own.
In case you want to get your customers even more emotionally invested, you could try running a raffle where most of the profits are donated to a charity.
And while we're on the topic, here's a great idea: Reward all customers who sign up for the competition with bonus loyalty points. If they're not members, let them know what they stand to gain if they sign up right then and there.
This way, even if they don't end up winning, they'll still have something to be happy about.
7. Use Greeting Cards
Holiday greeting cards are still a decent way to promote your business during Christmas. It's enough to have them sent to your customers to remind them of you (either in a physical format or through email).
Just remember to ensure the cards aren't too salesy. Focus the introduction and the body of the text on how much you value their business, and how you send them your best wishes.
Oh, and make sure your greeting cards state "Happy Holidays" in case you market to a large, diverse client base.
At the bottom of the card, feel free to offer the recipients a discount code, a coupon, or – why not – an invitation to enjoy some free products at your place of business during the Christmas period.